Charged with DWI by Pearland, TX Police?
Contact Attorneys Tad Nelson & Amber Spurlock
The Nelson Firm's legal team, attorneys Tad Nelson & Amber Spurlock, are highly trained attorneys who focus on DWI defense as a specialty area of a criminal law. If you or a loved one were arrested due to suspicion of Driving While Intoxicated, our legal team is one of the best qualified in the region to handle the case.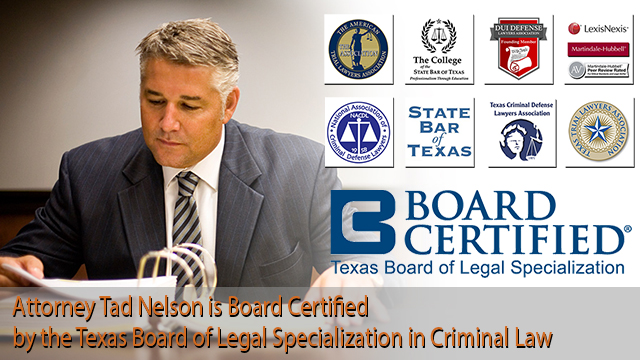 Both lawyers on our legal team are recognized by SuperLawyers as attorneys of distinction, members of the National College of DUI Defense, Tad Nelson holds a Board Certification in Criminal Law from the Texas Board of Legal Specialization, and, along with Tad, Amber Spurlock enjoys the prestige of being recognized as an ACS/CHAL Lawyer-Scientist.
If you're searching for qualified DWI defense lawyers to defend you against law enforcement's allegations in the Brazoria County Court at Law on your court date, contact the Law Offices of Tad Nelson & Associates immediately.
Pearland, TX Criminal Justice Resources
Pearland Police Department
2555 Cullen Blvd
Pearland, TX 77581
Phone: (281) 997-4100
Harris County Sheriff's Office
1200 Baker St.
Houston, TX 77002
Phone: 713-221-6000
Harris County Criminal Courts at Law
1201 Franklin St
Houston, TX 77002
Phone: 713-775-5394
Brazoria County Sheriff's Office
3602 County Road 45
Angleton, TX 77515
Phone: 979-864-2338
Brazoria County Courthouse
111 East Locust Street
Angleton, TX 77515
Phone: 979-849-5711
Fort Bend County Sheriff's Office
1410 Williams Way Blvd
Richmond, TX 77469
Phone: 281-341-4704
Fort Bend County District Court
301 Jackson
Richmond, TX 77469
Local Links
Pearland, TX, the largest city in Brazoria County, TX, with a population approaching 100,000, is located to the south of Houston, TX off of Hwy 288, within the legal jurisdiction of Brazoria County, TX, but with portions of it reaching into both Harris & Fort Bend Counties.
Law enforcement in Pearland is handled primarily by the Pearland Police Department, a full service law enforcement agency.
We're a Full Service DWI Defense Law Firm
Whether the charge is a felony or a misdemeanor offense, we'll provide guidance and legal advice you'll need through every step of the legal process. When the odds are against you, you'll need a professional on your side that knows what they're doing, that will go the extra mile for you. Time and time again, Tad Nelson has gained positive results for his clients leading many to consider him among the best DWI lawyers in Texas.
Even if you intend to plead guilty, there may be a chance of having your case dismissed for technical reasons, or making some form arrangement with the court to help you avoid jail. There are programs available for persons arrested for Driving While Intoxicated that will allow them a second chance or a way to avoid jail for the offense.
If you're interested in learning more about your options and you're serious about defending your future, contact Pearland DWI lawyer Tad Nelson at 281-280-0100.
Pearland, TX DWI Lawyer • Brazoria County
The Law Offices of Tad Nelson & Associates