Feel Like You Were Wrongfully Detained By Police Officers?
Contact Houston DWI Attorney Tad Nelson for help and answers.
One of the most vital pieces of the prosecution's case is the DWI stop. At The Law Offices of Tad Nelson & Associates, we use our extensive legal experience to challenge the validity of these stops and the admissibility of the evidence gained from the stop.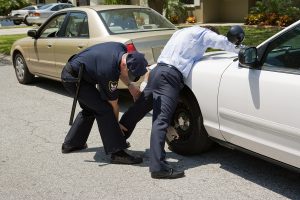 The Law Offices of Tad Nelson & Associates is led by Houston DWI defense lawyer Tad Nelson, a former prosecutor who has practiced law for more than 30 years.
As seasoned DWI defense attorneys, we have an insight into prosecutorial tactics that allows us to raise defenses that other attorneys may overlook.
At all times, we take action to minimize the impact that a stop based on suspicion of drunk driving can have on your life and the lives of your loved ones.
We're Experienced Defense Lawyers Defending Your Rights
Although every case is unique, there is a pattern to most criminal cases and many procedures that police must follow in all situations.
In almost every situation, a law enforcement officer sees a driver break a traffic law (such as by driving through a red light), stops the vehicle, sees some indication that the driver has consumed alcohol, administers field sobriety tests and then arrests the driver for Driving While Intoxicated.
We examine every action taken by police leading up to and during the arrest, and often find reasons to challenge the validity of the stop and arrest which can result in a DWI case being thrown out of court.
Reasons We Challenge Suspicion of Drunk Driving Cases
Listed below are the most common justifications we have as a legal team for fighting back against the charges on our clients and initiating traffic stop that led up to our client being detained and charged.
No Probable Cause for Stop
Improper Breath Testing Machine Usage
Flawed Initial Interview
Investigative Failures
Improper DWI Investigation
Flawed Administration of Field Sobriety Tests
Officer Failed to Look at the Totality of the Circumstances
Improper Warnings or Disclaimers
Warrant Errors
Improper Evidence Handling
Improper Evidence Logs
Improper Breath Machine Maintenance
Improper or Illegal Stop or Search
Also see Police Mistakes.
We look at all aspects of your case to ensure that we raise these and all other applicable defenses on your behalf. We will use our in-depth understanding of Texas law and criminal court procedures to find defenses that other attorneys may overlook which will benefit our clients.
Powerful DWI Defense Representation
Houston, League City, Galveston, And Throughout Texas
Schedule your free initial consultation today, by calling 281-280-0100 today. Don't hesitate to initiate contact with one of our dedicated criminal defense lawyers. Your future depends on it.
Texas Attorneys for Challenging DWI Traffic Stops
The Law Offices of Tad Nelson & Associates