Understanding Third Offense DWI Cases
When a person is accused of DWI a third time, the situation is dire as their case will be likely classified as a felony offense which will carry jail time, massive fines, and the suspension of the defendant's Texas Driver License for a period of up to 2 years from the date they've finished their prison time.
Even if you've made a mistake in the past, you have options to fight for your freedom. The Law Offices of Tad Nelson & Associates has remained a staunch defender of the rights of Houstonians since 1995 and has a history of winning in court for the accused.
To contact our office about your case, call us at 281-280-0100.
Penalties – Third DWI Offense
Up to a $10,000 fine for a third offense DWI
2 to 10 years in the state penitentiary
Driver's license suspension: 180 days to 2 years
COMMUNITY SUPERVISION (PROBATION):
If you are convicted of a third DWI offense there are situations where you are eligible for community supervision (probation) and some where you are not. If you are eligible for community supervision the term must be from 2 to 10 years. The courts will look at many factors in determining if you get community supervision.
Some of these factors are:
How long has it been since your last DWI?
If you previously had a probation how did you do on that probation? (did you ever violate a condition of the probation?)
How severe are the facts of the new case?
Was there an accident?
If you took the test, how high was your alcohol concentration?
Any aggravating factors?
The following conditions of probation will likely be required if a person is granted probation for a felony DWI. (In addition to the ones required for a class A misdemeanor.)
Community service hours rise to 160 to 600.
You must serve jail time as a condition of probation. (The minimum time is ten days and the maximum is 180 days.) THERE IS NO WAY AROUND THIS, ALTHOUGH WE MAY BE ABLE TO NEGOTIATE WEEKEND SERVICE.
There are various types of alcohol treatment programs that a judge can require. These range from inpatient treatment to outpatient treatment.
Call Houston Attorney Tad Nelson for Help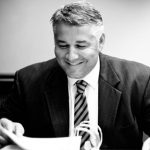 Prior to appearing in court you should contact Houston DWI lawyer Tad Nelson for legal representation and information on the best path forward for your situation.
3rd offense DWI cases in Texas are serious felony offenses which need to be tended by an attorney with experience representing persons who stumble into these predicaments.
Attorney Tad Nelson has over 27 years of experience fighting DWI charges, has earned his lawyer-scientist distinction from the American Chemical Society, and has shown his expertise in criminal law by earning his Board Certification® in Criminal Law from the Texas Board of Legal Specialization.
If you need help, contact us immediately.
Understanding Third Offense DWI Cases
The Law Offices of Tad Nelson & Associates