To have your life interrupted by the demands of the criminal justice system after a DWI arrest in Houston is only the beginning of the challenges you'll face while navigating the legal system in Texas.
For starters, once a person is arrested for a DWI offense, or for driving under the influence of drugs (illegal or legal), the State of Texas will move to administratively revoke your Texas Drivers License unless your Houston DWI defense lawyer can step in and take action on your behalf within 15 days of your arrest.
Afterwards, you'll still have to appear in court, in front of the judge, and decide on your plea. The plea you make to the court about the accusations against you will determine the manner in which our defense team will work with you and the court to lighten any potential criminal penalty that may be coming your way.
If you decide to plead guilty, we'll work to keep you out of jail.
At The Law Offices of Tad Nelson & Associates you can expect the highly educated and experienced DWI lawyers of our legal team to work to ensure that you're educated about the charges against you, the law as it relates to the allegations against you, and that you have the best possible legal defense to secure your future for you, and your family.
About Tad Nelson: Houston's DWI Lawyer-Scientist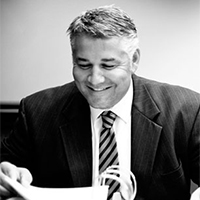 If you ever take time to perform due diligence on Tad A. Nelson, as you should do with any attorney you consider for your defense, you'll find that he's one of the few attorneys practicing DWI defense litigation in America who holds credentials as a scientist that can serve as an expert witness on matters involving human physiology and biochemistry.
Another fact that you may uncover about attorney Tad Nelson is that of his membership with the National College of DUI Defense (NCDD) and his Board Certification in criminal law from the Texas Board of Legal Specialization.
To be clear; you can take comfort in knowing that when you're represented by Houston attorney Tad Nelson that your legal representation is not only among the best in the Houston area, but one of the most distinguished DWI defense lawyers in the nation.
The Leading DWI Lawyer in Galveston
A native Galvestonian, attorney Tad Nelson has always taken pride in the island from which he was born and raised, and would never turn his back on the small town values and experience he grew up with for the "big city". The Law Offices of Tad Nelson & Associates maintains two offices in Galveston County with one on Galveston Island at 1919 Sealy St., and the other in League City, TX on 820 E. Main St.
Whether you were arrested in Harris County, or to the south in Galveston, we at The Law Offices of Tad Nelson and Associates are ready to help. We'll also appear in court on behalf of our clients in Brazoria, Chambers, San Jacinto, Waller, Montgomery, Fort Bend, and Liberty Counties.
If you need to talk with an attorney about a DWI case you're facing, feel free to call our office at 713-802-1631 or 409-765-5614.
When You Need A DWI Lawyer, Call Tad Nelson