The crime of Driving While License Invalid (DWLI) occurs when you operate a motor vehicle with a suspended, revoked, or expired license. This offense often goes hand in hand with a DWI conviction, as one of the primary penalties for Driving While Intoxicated is license suspension. However, there are a few other reasons that a person's Texas Driver License might be suspended, which we've outlined on this page.
Reasons A Texas Driver License May Be Suspended
There are several reasons why a person's Texas Driver License may be suspended. However, not all of them are directly related to a DWI or DUI conviction. A few of the most common reasons for license suspension in Texas are as follows.
Accumulating too many points on your driving record
In Texas, if you accumulate a certain number of points on your driving record within a specific time frame, your license may be suspended. For example, if you receive 4 or more moving traffic violations within a 12-month period, or 7 or more within a 24-month period, your license can be suspended. Furthermore, surcharges for license renewal may apply.
Failing to pay child support
If you're behind on child support payments, the state can suspend your driver's license as a means of enforcing payment.
Unsatisfied judgments
If you fail to satisfy a court judgment resulting from a motor vehicle accident, your license may be suspended until you've met the necessary financial obligations.
Consequences of DWLI in Texas
Although some cases are basic traffic violations, most DWLI cases are not ticketable offenses. DWLI can be classified as either a Class A, Class B, Class C Misdemeanor offense. If you're stopped by law enforcement and they run your license and find out its suspended or revoked as a result of a crime (like DWI, DUI, FSRA or a car accident injury), you'll be immediately transported to county jail.
If you're found guilty of DWLI in Texas, the following penalties will apply;
Fines: Depending on how the District Attorney classifies the offense, fines stemming from a DWLI conviction can range from $100 to $4000.00.
Jail time: A DWLI conviction can result in jail time which is usually time already served. However, the court may impose a sentence if you have prior convictions. For a first offense, you could face up to 180 days in jail, while a subsequent offense could land you in jail for up to one year.
License suspension: In some cases, a DWLI conviction will result added time to the suspension period for your driver's license which doesn't help.
The penalties outlined above are separate from any penalties you may be facing for the offense that caused your license suspension. This means you'll be dealing with the both offenses simultaneously.
Also worth nothing, the criminal classification associated with a DWLI offense is directly related to the cause of your license suspension. If your license is simply expired that's one thing, but if it was suspended as a result of DWI, DUI, FSRA or a car accident injury, that's a much more serious matter.
If you're seeking legal representation for a felony or misdemeanor criminal offense in the Greater Houston area, contact our law firm today at 713-802-1631.
Unsuspending Your License
Driver License Reinstatement Requirements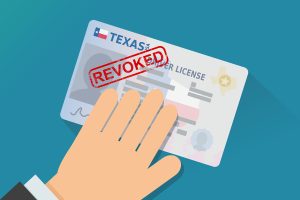 Prior to the renewal or issuance of your driver license, you must complete each of the following:
Serve the required suspension period;
Obtain a Financial Responsibility Insurance Certificate (SR-22) from an authorized insurance company (an SR-22 must be maintained for two years from the date of conviction);
Pay the required $100 Reinstatement fee prior to the renewal or issuance of your driver license, in addition to paying any other outstanding fees owed.
Occupational License
You may be eligible to apply for an occupational license while your driver license is suspended or revoked. To learn more about occupational licenses or to determine if you may be eligible to apply, visit the state's Occupational License webpage.
A Comprehensive Defense Strategy
At The Law Offices Tad Nelson & Associates, we tailor each defense strategy to address an individual's unique situation. If we can successfully fight the charge that resulted in the suspension of your license, we can petition the state to immediately reinstate your Texas Driver License.
As your defense attorney, our goal is to find any weaknesses in the prosecution's evidence, and develop a strong defense strategy for you. This may involve challenging the legality of the traffic stop, the accuracy of any field sobriety tests, or the admissibility of breath or blood test results.
In cases involving DWLI, our law firm will examine the circumstances surrounding your license suspension to determine if there's a basis for contesting the charge.
Need Help?
Talk With A Defense Lawyer Today
If you're seeking legal representation for criminal offense in the Greater Houston area we're here to help. Contact Attorney Tad Nelson at 713-802-1631 or use our law firm message form.
We operate law offices in Houston, Galveston, and League City. We take pride in serving our clients and we look forward to hearing from you.