Even if you are not driving while intoxicated, it is still against the law in Texas to have an open container of alcohol in the passenger area of your vehicle. This means you can be stopped and cited by an officer if there is a half-empty beer can or wine bottle on the floor of your car, even if you were not the one who had been drinking.
But one question we often get is,
"Can I actually be arrested and taken to jail for an open container violation?"
The simple answer to this question is "no."
Possession of an alcoholic beverage in a motor vehicle is a Class C misdemeanor under the Texas Penal Code. But the Code also specifically directs officers to not arrest individuals who commit a violation. Instead, the officer is required to "issue to the person a written citation and notice to appear that contains the time and place the person must appear before a magistrate."
As long as the person cited "makes a written promise to appear" by signing the citation, they are free to go.
Essentially, the law treats an open container violation as the equivalent of a speeding ticket. You will not be immediately arrested and taken to jail. But you are expected to appear in court at a later date. And just like with a speeding ticket, you are free to present a defense in court.
Open Container Violation vs. DWI
Now, if the officer who detains you suspects you actually have been drinking and driving, that is a much different matter. A first-time DWI is a Class B misdemeanor in Texas. And while that may not sound much more serious than a Class C misdemeanor, the reality is you can–and will–be arrested for DWI and taken to jail.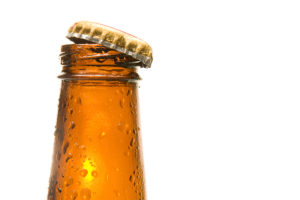 Also note that if the officer finds evidence of both DWI and an open-container violation, that can have a noticeable impact on your DWI case. The normal first-time DWI penalty requires a minimum jail term of 72 hours (3 days).
If prosecutors present evidence of an open container violation at trial, however, that minimum DWI penalty doubles to six days in jail.
How Do I Avoid an Open Container Citation?
The main thing to keep in mind is that there cannot be any can, bottle, or other receptacle of alcohol where the seal is broken, or the contents partially removed, within the "passenger area" of your car. This includes all seating areas. But it excludes the trunk or locked glove compartment. So if you are keeping partially open wine bottles in your trunk, you should be fine.
If you have been cited for an open container violation and require legal advice specific to your situation, contact the criminal defense attorneys at the Law Offices of Tad Nelson & Associates today in Houston, Galveston and League City.