Texas has hundreds of criminal defense attorneys who advertise that they can defend people accused of DWI. But those in the market for a lawyer should be selective about who they eventually hire. The fact is that not all lawyers with a Texas bar license have the experience you need to raise a strong defense to DWI charges.
Tad Nelson is a seasoned DWI lawyer with hundreds of satisfied clients. Below, he highlights why some lawyers are not the right fit for you.
Some Lawyers Handle a Few DWI Cases a Year
Unfortunately, some lawyers just don't have deep enough experience in DWI cases to be the best choice for a person facing drunk driving charges. Because these lawyers handle few cases, they might not be familiar with the prosecutor, local judges, or juries.
Our firm has represented hundreds of DWI defendants. Because of this, we can:
Effectively negotiate plea bargains where appropriate because we know how prosecutors think. We have built relationships with local prosecutors which allow us to resolve cases to the satisfaction of our clients.
Defend clients vigorously in front of judges who are familiar with us. We understand what arguments a judge finds persuasive and which ones might hurt your credibility. We can tailor a defense to the judge in front of us.
Demand that prosecutors hand over evidence they might have hidden. Sometimes, the prosecution has its hands on helpful evidence but neglects to turn it over. For example, a urine test might have shown no drugs in your system. They can't put those results in a locked drawer without sharing them.
Choose juries that are not biased against defendants, improving the odds of a fair trial. Many jurors automatically assume a defendant is guilty, but we can tell when someone has an open mind.
This experience assists a client through all phases of a DWI case.
Most Lawyers Are Not Trained in the Science of DWI
Many DWI cases stand or fall based on chemical tests, such as urine or breath tests. There is a specific science that explains how these tests work. There are also weaknesses in these tests, which are not always 100% accurate.
Your DWI lawyer should have regular training on the science of DWI. At our firm, we have attended countless seminars and trainings that cover a variety of relevant topics, such as:
The effects of alcohol on the human body
How equipment like the Intoxilyzer needs to be maintained and calibrated
How illnesses or mental conditions can mimic the effects of intoxication
Tad Nelson is a DWI Lawyer Scientist—one of only a handful in the state of Texas. Because of his detailed knowledge of the science behind DWI, he is well equipped to tackle even the toughest "open and shut" cases and explain to a judge and jury why you are not guilty of DWI.
DWI Law Changes Regularly in Texas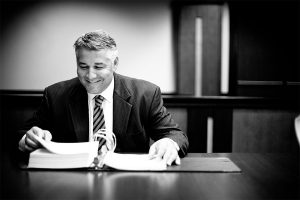 Before a lawyer can properly advise you about a case, he or she needs to stay abreast of changes to Texas law. Recently, Texas has changed how it levies fines for DWI.
Your lawyer should also be able to explain how a DWI conviction can affect insurance rates, the ability to maintain a professional license, or keep a commercial driver's license.
A lawyer who handles a couple cases a year probably does not stay on top of all these changes. We do. As a result, we can help you think through the likely consequences of pleading guilty, which helps you know when to fight all the way to court.
An Experienced Lawyer Can Help You Understand Your Odds
Can you beat the charges? This is a common question with DWI defendants. Because we have handled so many cases from start to finish, we understand the strengths and weaknesses of the evidence against you. We can walk you through what we know and how it might show you are guilty or innocent. We can also identify other evidence that might prove pivotal to your defense.
No lawyer will ever guarantee a result. But we can use our experience to gauge your odds of beating the charges. An inexperienced DWI attorney can do little more than offer a guess.
Contact Tad Nelson Today
Our legal team is committed to getting the best result possible for drunk driving defendants. Sometimes, this means challenging your arrest as unconstitutional, while in other cases it means negotiating a plea deal. To learn more, contact us to schedule a confidential case review with a member of our team.