We at the The Law Offices of Tad Nelson and Associates would like to send our deepest regards and best wishes to the family of Deputy Jesse Valdez III, 32, an 11 year veteran with the Harris County Sheriff's Office who was the victim of a head on collision with an SUV on E. Wallisville Road in the east Houston, Harris County town of Highlands, TX.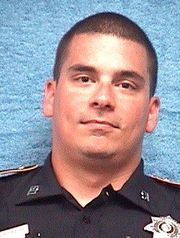 Deputy Valdez was a single father.
According to authorities, Kelli Jo Ivy, 29, who had just got out of jail for a drug charge related to meth amphetamines, was the driver of the SUV that struck Deputy Valdez's cruiser head-on.
She was alleged to have been in possession of crystal meth at the time of the accident, and was speculated to be under the influence of drugs or alcohol during the time of the accident. The imminent return of blood test/toxicology results will confirm if Kelli Jo Ivy was intoxicated at the time of the incident.
Intoxication Manslaughter – DUI
Due to the nature of the offense, there's no doubt she'll be charged with Intoxicated Manslaughter if the results of her blood test come back positive for an intoxicating substance like alcohol or meth.
Also, considering that she was released from jail early for an earlier drug charge and out on parole, there's a good chance her Texas Driver's License was suspended as a result of her previous drug charge if she was driving a vehicle during the time of the previous arrest.
Regardless of what opinions we all may have in this situation, its a tragic situation for all parties involved. There's no doubt that young woman made a grievous error and had no intention of killing anyone when she was out on the road, and an innocent man died.
The State of Texas, and Ms. Kelli Jo Ivy, will have their day in court.
To read more about this tragic incident, review the links to local Houston area news sources below.
abc13: Driver Charged After Head-On wreck That Killed Deputy
Houston Chronicle: SUV Hits Sheriff's Cruiser Head On, Deputy Killed
Harris County Sheriff's Deputy Killed in East Harris County